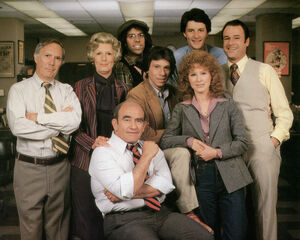 Welcome to Lou Grant Wiki

Edit
New wiki name is a collaborative website about your topic that anyone can edit!
Lou Grant worked for the fictitious Los Angeles Tribune newspaper as its city editor, a job he took after the WJM television station fired him. (Though Mary Tyler Moore Show viewers were introduced to the character as a television news producer, the characted noted many times that he'd began his career as a print journalist.) This Lou Grant was nothing like the character he had played in the former Mary Tyler Moore series as he was much more serious in his attitudes and manner. The rest of the main cast included Robert Walden and Linda Kelsey, who played general-assignment reporters Joe Rossi and Billie Newman, respectively (Kelsey joined the show in the fourth episode, replacing Rebecca Balding, who had portrayed reporter Carla Mardigian during the show's first three episodes); Mason Adams, who played managing editor Charlie Hume, an old friend of Lou's who had convinced him to move from Minneapolis to Los Angeles; Jack Bannon, who played assistant city editor Art Donovan; Daryl Anderson, who played photographer Dennis Price, usually referred to as "Animal"; and Nancy Marchand, who played the widowed, patrician publisher, Margaret Pynchon, a character loosely based on real life newspaper publishers Dorothy Chandler of the Los Angeles Times and Katharine Graham of The Washington Post. Recurring actors who played editors of various departments included Gordon Jump and Emilio Delgado. Asner won two Emmys for his portrayal of Lou; Marchand won Emmy Awards for "Outstanding Supporting Actress in a Drama Series" four of the five years the series ran; Walden, Kelsey, and Adams all received multiple nominations for supporting Emmys.
Latest activity
Edit