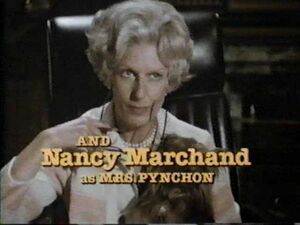 Margaret Pynchon
(nee
Jones
)
is the widowed publisher and owner of Los Angeles Tribune.
She is a woman of great charm and power, and somewhat eccentric. Her father founded the Los Angeles Tribune and she roamed the building from the time she was a toddler, knowing every every crack and brick. Despite great pressure from her nephews and their wives to sell the Trib, she believes in the newspaper that her father founded and her dearest wish is to have it return to the days when it was synonymous with reason, objectivity, truth.
Her constant companion is Barney, a mean York terrier, who is mostly seen in her lap and snarls or yaps most of the time Lou Grant or anyone else. He was later killed by a pit bull and was later replaced by a dog, named Max.
She also has a penchant for trivia and an affection for gossip, especially for personal details involving medical histories of the famous.
She is also an avid sports fan, especially lacrosse and hockey, and her sports department is hardpressed and to feature stories pertaining to either of these events.
Because of her reputation for capriciousness and because she is a power, she has been shamelessly catered to by her Editorial staff. No one had the temerity to contradict or disregard the memos in form of odd scraps of envelopes, torn paper napkins or restaurant checks that would at times rain from "The Tower" where she has her offices.